The future of health begins with you
The All of Us Research Program is a historic effort to gather data from one million or more people living in the United States to accelerate research and improve health. By taking into account individual differences in lifestyle, environment, and biology, researchers will uncover paths toward delivering precision medicine.
JOIN NOW
We are building a research program of 1,000,000+ people
The mission of the All of Us Research Program is to accelerate health research and medical breakthroughs, enabling individualized prevention, treatment, and care for all of us.
Scientific Opportunities
We are actively partnering with others to create a groundbreaking national research resource platform
News, Events, & Media
In possibly the largest research project in human history, the All of Us Research Program will sequence one million people's genomes. The UW's Northwest Genomics Center will become one of three centers for this research.
Nov 26, 2018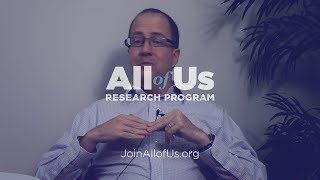 Some communities may be hesitant to trust a research program because there have been times in our history when government-funded research hurt people. There are ethics policies in place so events like this don't ever happen again. In this vlog, All of Us Research Program director Eric Dishman openly discusses the past, and talks about how All of Us is working to build trust with communities for a healthier future.
Download a text alternative docx | 17.27 KB.
Nov 09, 2018
See more