The future of health begins with you
The All of Us Research Program is a historic effort to gather data from one million or more people living in the United States to accelerate research and improve health. By taking into account individual differences in lifestyle, environment, and biology, researchers will uncover paths toward delivering precision medicine.
JOIN NOW
We are building a research program of 1,000,000+ people
The mission of the All of Us Research Program is to accelerate health research and medical breakthroughs, enabling individualized prevention, treatment, and care for all of us.
ABOUT THE SCALE & SCOPE
We are actively partnering with others to create a groundbreaking national research resource platform
News, Events, & Media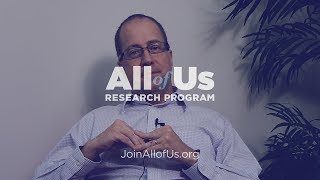 Eric Dishman, director of the All of Us Research Program, welcomes over 40 new community health center partners from across the country to the All of Us family. He discusses how this partnership will enable All of Us to reach diverse communities and allow the health centers to build their research capacity and improve their electronic health record systems.
Sep 19, 2018
A new All of Us participant center opens at Northwestern Medicine Delnor Hospital in Illinois.
Sep 17, 2018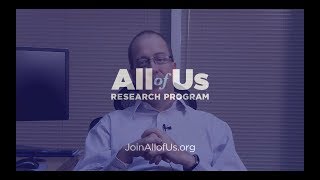 All of Us Director Eric Dishman returns to his video diary to celebrate an important enrollment milestone and highlight some new program features, including newly-released surveys and two pilot initiatives that are coming soon.
Download a text alternative docx | 17.6 KB
Sep 13, 2018
See more
Our program infrastructure is a network of U.S. industry and universities